Fiber Laser Marking Machine
Fiber Laser Marking Machine
Bulk of Pen's Logo/Number Batch Laser Marking Machine with Rotary Table
Brief Introduction:
Model: UG-30FM
360degree turning rotary device
Marking 24pcs pen one time
30W RayCus fiber laser
220*220mm marking area
Original EzCad controller
INQUIRY NOW
Applications
Electronic and communications products, integrated circuit chip, computer parts and electrical appliance,all kinds of precision component,  hardware tool, instrument and meter, aerospace and astronautics, jewelry, horologe, gift, office supply, trademark signs, sanitary ware, kitchen ware, plastic product, metal ornament, fastener, eyeglasses frame, , sanitary ware fittings, tableware, food, beverage and alcohol & tobacco,etc all kinds of area graph and characters's, marking, mass production, marking clear and beautiful, never disappear. 

Features
1. Adopting famous Raycus brand 30W fiber laser to output laser, high electro-optic conversation rate, compact size, good quality velocity of light. The life time of fiber laser is more than 100,000 hours, if each year working 365 days, each day working 24 hours, then the life time is more than 10 years, are the real maintenance free, saving the later period maintenance cost.
2. Fiber laser marking machine, adopted famous SINO-GALVO galvanometer & Wavelength high speed scanning lens has good facula mode, more thin single line, suitable for hyperfine processing, high system integration, less malfunction, are the real suitable for industrial processing area. 
3. With 360degree turning rotary table, each time can for 24pcs pen marking, much improving marking efficiency.
4. Marked graph and characters is permanent , will not regression  due to friction.
5. No consumable, low power consumption, whole air cooling, no need water cooling, total machine power less than 1000W.
6. Not influenced by severe environment and bag weather, can continue working with accumulator when power failure. 
7. One piece design of control cabinet and marking table, small cover area. 
8. High perpendicularity of lifting device and marking table, suitable for small workpiece fine marking. 
9. With Original EzCad controller, can for bar code, graph, characters, OR code, ect marking, supporting PLT, DXF, BMP such format, can useSHC, TTF word stock; System can auto encoding, auto marking serial number, batch number, and date, ect.
| | |
| --- | --- |
| Maximum output laser power | 30W, RayCus |
| Wave length of laser | 1064nm |
| Marking scope | 220*220mm |
| Laser sources | Fiber module |
| Field lens | High speed scanning head |
| The minimum focus facula diameter | 20μm |
| Minimal character | 0.01mm |
| Control system | Original Ez cad controller with USB port |
| Marking depth | 0.01-5mm( depends on different materials) |
| Marking line width | 0.01-0.1mm |
| Marking speed | ≤7000mm/s |
| Laser repetition frequency | 20kHz~80kHz |
| Cooling method | Force-air Cooling |
| Power supply | AC 220V/110V, 50/60Hz, single phase |
| Support format | PLT, BMP, DXF, JPG, TIF, AI etc |
| Process Material | All kinds of metal and part of Non-metal Materials |
| Certificate | CE/FDA |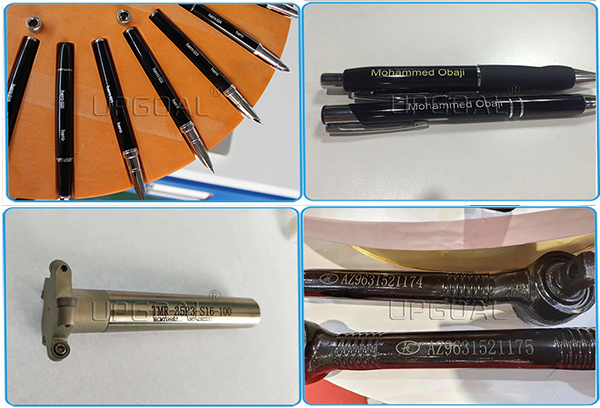 Inquiry now