ATC Rotated Head CNC Router
ATC Rotated Head CNC Router
1300*2500mm 6.0KW Automatic Tools Changing Woodworking CNC Router with SYNTEC 60CB Controller
Brief Introduction:
Model: UG-1325
4*8feet 1300*2500*300mm working area
8 pcs Linear Type Auto tools changing
SYNTEC 60CB Controller
SNYTEC 1KW bus control servo motor
6.0KW air cooling ATC spindle
Oil mist cooling
INQUIRY NOW
Applications
Woodworking industry: three-dimensional waved plate, cabinet door, craft door, overlaid wood composite door, screen, solid wood door, craft casement window, etc, such furniture product milling and engraving, also for shoe-cleaning machine, game machine cabinet and panel, mahjong table, computer table and auxiliary processing of panel furniture,mainly used for cabinet door, solid wood furniture, also can for MDF cutting & processing.
Features
1.Whole machine is welded by strong square  steel tube structure, with tempering aging treatment, no distortion, long time using.
2. Linear type auto tool changer system, total 8 pcs bits in the tool magazine, can change the needed bits intelligently, saving bits changing time, improving efficiency.
3.Adopted with  famous China HQD 6.0kw air cooling ATC  spindle, high precision, low noise, high RPM, long life time , and stable moving.
4.Famouns Fuling brand inverter, for spindle muti-speed adjusting.
5.The latest SYNTEC Taiwan 60CB high performance industrial control system, intelligent controlling, has the protection function for beyond the working table, avoiding the mechanical collision due to the larger designed layout. Intelligent control the speed, can control the processing speed severally, truly improve the processing efficiency and lengthen the tools life time, increase the rate of finished products. Can do multi layer 3D processing, fast and smooth do three-dimensional processing, engraving and cutting.
6.  Powerful SYNTEC 1000W servo motor and driver for XYZ-axis, suitable all kinds of heavy solid wood engraving and cutting, high precision and fast speed. Advanced bus control method for numerical control and motion control, when turn on the machine, then can work directly no need do set the O point every time, higher reliability , stronger the anti-interference ability is stronger, and no pulse loss.
7. Japan Shimpo reducer for servo motor, used for replace traditional rack and belt,to make machine more powerful and stable.
8. Linear square guide rail, Hiwin, Taiwan, dia 25mm for XYZ-axis, double raw four columns, good weight capacity, stable moving and ensuring the precision. Germany WHM Heilon helical gears pinion and rack transmission for X and Y axis, higher running speed and efficiency, saving cost. Z- axis with precision lead ball screw, high precision and more durable.
9.Vacuum adsorption system: vacuum adsorption table with aluminum alloy T slot & pilot pin, adopted bakelite table, high density, no deformation and high adsorption, can for different size materials adsorption, saving time compared the traditional mechanical plate fixing, the vacuum pump is 7.5kw air cooling type to solve water cooling vacuum pump changing water issue in the frigid weather.With feeding wheels on the back of machine, convenient for heavy materials loading.
10. Double bags dust collector 5.5KW helps to suck the dust, milling dust, saw dust during processing, keeping the working table cleaning and ensuring the machine long time using.
11. Indpendent SYNTEC control cabinet with famous brand electronic parts.
12. With oil mist coolign device when processing alumimum/metal work pirece, impproving engraving cutting precision.
13.Precisioin auto tool calibration, more convenient for each time Z-axis 0 point setting.
14.Auto lubrication system more convenient for maintenance. 
15.Advanced file processing function, can timely correct faults, and good compatibility forType3/Artcam/Mastercam/Caxa such file. Advanced three dimensional curve forcast algorithm, stable broken line, ensuring the curve moving speed & precision.
16. Memory function after power failure and break point, can auto back to zero point and correct the faults, ensuring the precision for long time working and saving materials.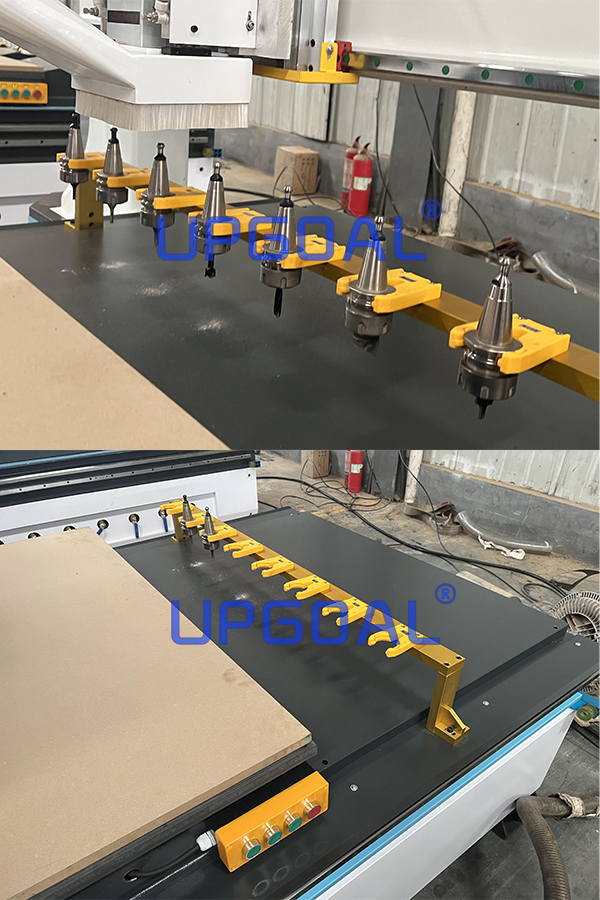 Effective working area

1300(X)mm*2500(Y)mm*300(Z)mm

Materials

Heavy duty steel pipe welded structure for whole machine

Working table

Vacuum adsorption table with aluminum alloy T slot & pilot pin

Moving type

Gantry moving

Guide rail

Linear square guide rail ( Hiwin, Taiwan, dia 25mm)

Transmission

WHM helion helical rack &pinion for X Y -axis, Lead ball screw for Z-axis

Driving mode

SYNTEC Taiwan 1000W servo motor and driver for XYZ-axis

Spindle motor

6.0KW China HQD ATC air cooling spindle(ISO30)

Spindle speed

12000-24000rpm

Tools changing method& changing ability

Linear type auto tool changer, 8 pcs or more

Inverter

Fuling

Voltage

AC 380V, 50/60Hz, three phases or

AC 220V, 50/60Hz, single phase

Maximum traveling speed

60000-800000mm/min

Maximum engraving speed

25000-40000mm/min

Machine accuracy

0.01mm

Control system

SYNTEC 60CB control system

Hand wheel

SYNTEC HPG( hand pulse generator)

Suitable software

Artcam, Type3, Ucancam V9,etc

Carving Instructions

G code *Uoo *mmg *plt HPGL

Running environment temperature

0-45 ºC

Relative humidity

30%-75%

Oil mist cooling system

With

Dedusting device

Dust collector, 5.5kw

Vacuum pump

Air cooling, 7.5KW

Lubrication system

Automatic

Tool calibration

Auto

Certificate

CE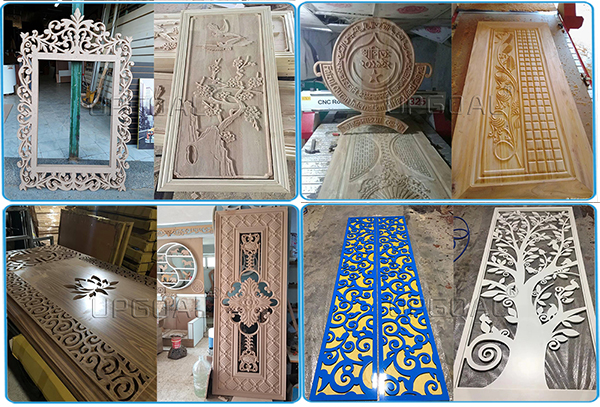 Inquiry now