Plasma Cutting Drilling Machine
Plasma Cutting Drilling Machine
Large 2000*6000mm CNC Plasma Drilling Cutting Pipe Cutting Machine with Diameter 500mm Rotary Axis
Brief Introduction:
Model: UG-2060P
2000*6000mm working area
For flat cutting, pipe cutting and drilling
Diameter 500mm rotary axis FangLing control system
Hypertherm MAXPRO 200 plasma power supply
INQUIRY NOW
Applications
Suitable for nonferrous metal sheet, stainless steel plate, carbon plate,  aluminum plate, galvanized plate, white steel plate, titanium plate, etc materials automatic cutting.
Application: Metal processing, machine manufacturing, auto spare parts, ventilate environment protection, steel structure shipbuilding electrical product's shell processing, advertisements and signs, decoration, iron art garden, auto making, ship's electrical parts& plates cutting.
Introduction
CNC plasma cutting drilling machine has solved problem for follow-up processing for small holes after cutting plates, economic, energy conservation and environment protection, high improve the working efficiency, lowing the processing cost, has the ability of combine machining, fully effective the machine performance.
Combined the cutting and drilling two functions on one machine, can drill 2-15mm small holes which plasma cutting machine can't cut, can for less than 5mm thin steel cutting and drilling, also for 6mm or more than 6mm thickness steel center drilling and cutting.
With special drilling head can for 1-30mm diameter steel drilling, after drilling, can do the cutting works.
Features
CNC Control system(FangLing control system)
1. LCD, English display. Has the notes of each operation button on the bottom of displayer in time, so just needs short training, then the buyer can do independent operation, more convenient and easy to use.
2. Powerful anti-interference ability, moving stable and convenient.
3. With cutting compensation function, setting the required workpiece size in computer, nesting and output, can adjust the slotting size in the control system according to needs, easy and efficient operation.
4. Memory function after power failure and break point, no matter power failure or arc breaking during cutting, all can continue go forwarder or back-off following the cutting track.
THC( Torch Height Controller)
1. With high sensitivity THC, auto adjusting the best cutting distance, ensuring the workpiece accurately cutting. 
2. The torch has auto torch height controller, during cutting, the torch always keeps the same distance with the plate, extend the nozzle's life time, and get the high quality cutting effect.
3. Good anti jamming capability, stable performance
Z-axis( Double Z-axis, drilling and cutting) 
1. Z-axis is lead ball screw transmission type, high speed, convenient maintenance,suitable for all kinds thickness of plates.
2. Can auto adjust the cutting distance for uneven plate, ensuring the same distance between the torch with plate, ensuring the cutting quality.
3. Special torch height controller can prevent the torch crash the plates effectively, protect the torch and long time using.
4. With anti-collision device, during the cutting, if torch crash accidentally, the machine will stop immediately, avoiding breaking the machine and thin plates is whiled away due to the cocking.
5. With infrared positioning system for cutting Z-axis
Motor & Drive
1. Adopting China famous brand stepper motor and driver, stable performance, high response speed, good anti jamming capability.
2. All the machine's signal wire is high flexible shielded wire, heat resistant, low temperature resistant, bend resistant.
3. Control signal uses 24V voltage, with famous brand switch power supply.
Machine bed part
1. The whole machine bed adopts welded steel structure and then precision-machined, whole tempering, fully eliminate welding stress, stable and reliable performance. Gantry and end beam adopts cast aluminum and then precision-machined, moving performance is good.
2. Dual driving for Y-axis, XY-axis adopts high precision linear square guide rail, Hiwin, Taiwan, good oriented, high precision. Transmission is high precision helical rack and pinion, customized by the specialized manufacturer, surface carburizing quench, stable moving and high precision.
3. Dust proof system on the gantry, effectively prevent the dust going into guide rail and rack during cutting, extend the machine life time, also make machine more beauty,
4. Special fume dust extractor,and down draft cutting table and slag storage device, create a good working environment.
Nesting Software
1. Austria FastCAM automatic programming and nesting software
2. Auto programming, parts generated and nesting softare professionally drawing and cutting control With the post processor for graphic transformation and nesting.
3. Realizing the edge-shared nested during cutting, saving time and materials.
Plasma Power Supply
Adopting USA Hypertherm MAXPRO 200A plasma power supply, cutting ability 30-40mm
Rotary axis
Diameter 500mm, working length 6000mm for pipe cutting, circle pipe cut off, no need calculating pulse parameters, convenient and easy to use.
Cutting width

2000mm

Cutting length

6000mm

Rotary axis

Diameter 500mm, working length 6000mm, reduction gear transmission

Can for circle cylinder cut off, for square cylinder just can cut from surface, no need calculate & input pulse parameter each time.

Z-axis

With THC( torch height controller, Ontime, Shenzhen),

Control system

FangLing( supporting cutting & drilling& rotary axis cutting, Shanghai)

USB interface Offline control system

Memory function after break point and power failure

Plasma power supply

200A, Hypertherm

Cutting thickness

Hole punch cutting: ≦30mm

Edge cutting: ≦ 35mm

Traveling speed

20000mm/min

Cutting speed

Adjusted according to material's thickness

Drilling head

With air cylinder for drilling Z-axis up and down

Drilling ability

Minimum drilling hole diameter:2-3mm

Maximum drilling hole diameter:20mm

Maximum drilling thickness:35mm

Drilling speed

Constant speed, can't adjust

Working table

Tooth type cutting table

Guide rails

Linear square guide rail ( Hiwin, Taiwan, #20)

Transmission

XY-axis is with helical rack and pinion

Driving system

Stepper motor (86BYGH450B, Chuangwei, China) with reduction motor

Stepper driver(2608,Yako, China) for XYZ-axis

Rotary axis: stepper motor (110BYGH450A, Chuangwei, China), stepper motor (2811, Yako,China)

Lubrication system

Semi-auto

Fume extractor

Exhaust fan

Positioning system

Infrared

Anti-collision system

Yes

Power supply

AC 380V+10%, 50/60Hz, three phases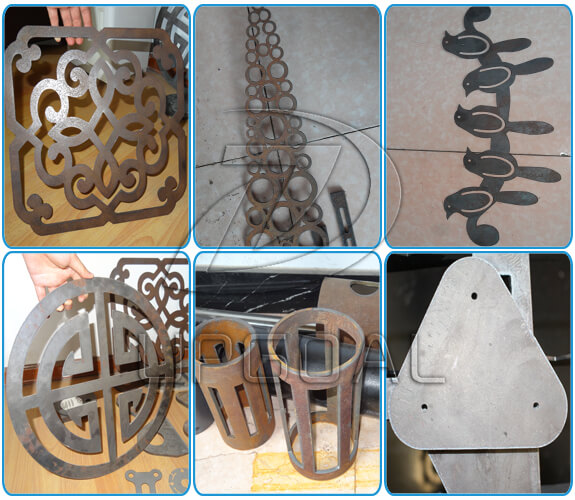 Inquiry now