Gantry Portable Plasma Cutting Machine
Gantry Portable Plasma Cutting Machine
Dual Driving Portable CNC Plasma Flame Cutting Machine 1500*300mm
Brief Introduction:
Model: UG-1525P
Portable type plasma flame cutting machine
Plasma cutting with 100A HUAYUAN plasma power supply, within 16mm cutting thickness
Flame cutting: 1-300mm
INQUIRY NOW
Applications
Suitable for all kinds of large, medium and small factories and mines, widely used in automobile, shipbuilding, engineering machinery, etc. Suitable for carbon steel, stainless steel and nonferrous metal cutting.
Features
The portable CNC plasma cutting machine has a cantilever structure and can be equipped with plasma cutting. It is a cutting equipment with good efficiency and energy saving. It is a CNC plasma cutting machine with light weight and economical price. With automatic height adjustment system. It is mobile as a whole and is used like a "little sports car". It can be directly placed on the steel plate to be cut, which is convenient and flexible to use; it is suitable for cutting and cutting details of carbon steel, stainless steel and non-ferrous metal plates of various thicknesses. Plasma miniature automatic height adjustment system can be configured.
The structure of the portable cutting machine is simpler and lighter than that of the gantry CNC cutting machine. It is equipped with a simple CNC system and can cut any two-dimensional graphics (the graphics library is simpler than that of the gantry machine, such as the PNC-CNC series of Shanghai Zhongxiu CNC welding and cutting equipment) , because of its simple structure, convenient movement, and low price, it can also cut two-dimensional complex graphics, and is favored by small and medium-sized machinery enterprises.
High reliable performance, capable of preventing strong plasma interference, lightning strikes, surges, etc.; 32M large user program storage capacity, up to 10,000 processing programs; Can freely convert Chinese and English, execute, display, and save Chinese file names; Rich Software functions, practical flame/plasma cutting process, especially the processing of small line segment programs, can be widely used in machine cutting, advertising, iron art, etc.; 4-axis linkage function can be expanded; dynamic graphics with 7-inch color LCD display, Just right; U disk reading program and timely software upgrade.
Cutting process:
 Plasma cutting:
1. The portable plasma cutting machine is suitable for cutting and blanking the details of carbon steel, stainless steel and non-ferrous metal sheets of various thicknesses.
2. The CNC plasma cutting machine can perform high-quality cutting and blanking of stainless steel, carbon steel and non-ferrous metals with a thickness of 1.0-40mm.
3. Plasma cutting can be equipped with water bed for underwater or shallow water surface cutting, which can greatly reduce the environmental pollution such as smoke, arc light, harmful gas, noise and other environmental pollution produced by plasma cutting, and has good environmental protection effect. Dry-type dust removal and purification equipment can also be selected.
4. Plasma cutting uses air, oxygen, etc.
Flame cutting:
1. CNC portable flame cutting is suitable for cutting and blanking the details of carbon steel sheets of various thicknesses.
2. The flame can carry out high-quality cutting and blanking of 5-150mm carbon steel;
3. Flame cutting is used in combination with oxygen and gas, and the gas can be (acetylene, industrial propane, liquefied gas)
Model

UG-1530P

Effective cutting area

1500*3000mm( Length * width)

Driving mode

Dual drive

Cutting torch

Dual plasma & flame cutting torch

Plasma power supply

Huyuan, LGK-120IGBT, 120A

Cutting speed

20-3200mm/min

Flame cutting thickness

6-150mm,maximum 180mm

Plasma cutting thickness

0-20mm

Torch lifting distance

80-130mm

Scribing straightness

accuracy

±0.3mm

Control system

STARFIRE control system

Torch height controller

STARFIRE  Digital Voltage THC

Cutting gas

Oxygen+ dimethylmethane or acetylene

Cutting speed

0-3500mm(at maximum 4000mm)

Working interface

Chinese/English/24 foreign languages)

Voltage

AC 220V, 50/60Hz, single phase or

AC 380V,50/60Hz, three phases

Nesting software when delivery

StarCAM

CNC programming

Automatic graphical programming software based on AutoCAD

Cutting surface roughness

12.5μm≤Ra≤25μm

Machine material

6030 high -strength hardness aluminum alloy

insulation grade

A

Enclose protection class

1

Certificate

CE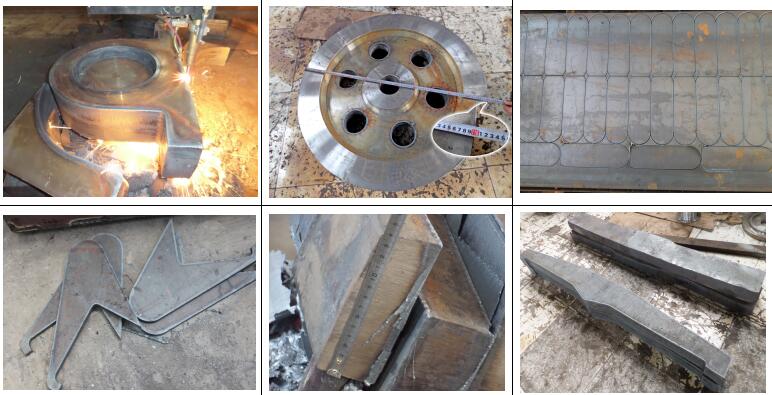 Inquiry now