Fiber Laser Cutting Machine
Fiber Laser Cutting Machine
3000W Full Enclosed Fiber Laser Cutting Machine with Air Filter 1500*3000mm
Brief Introduction:
Model: UG-1530FL
1500*3000mm cutting area
Ful enclosed cover
3000w MAX fiber laser source
RayTools auto focusing cutting head
CypCut 2000 software
INQUIRY NOW
Applications
Suitable material
Cutting a wide variety of metal plates, tubes, mainly applicable to stainless steel, carbon steel, manganese steel, galvanized sheet, a variety of alloy paltes, rare metal and other materials cutting.
Application industry
Industry of kitchen ware, lamps and lanterns, panel beating, metal cabinets, auto parts, refrigerators, air condition, elevators, hotel metal supplies processing, etc.
Features
1. With fully enclosed cover, safety and environment protection, the observation window adopts and European CE standard laser protective glass, the smoke produced by cutting an be filtrated inside, its non-polluting and environmentally friendly.
2.High-rigidity heavy chassis,reducing the vibration generatedduring high-speed cutting greatly. High-performance  vaiation aluminium crossbeam,after finite element analysis,realizes highly accelerated circular arc cutting speed.
3.The famous RAYTools BMH110 auto focusing fiber laser cutting head  does not come into contact with the surface of the material and does not scratch the workpiece.
4.  Adopted stable MAX brand 3000W  fiber laser source with independent cabinet & air conditioner, photoelectric conversion rate is high, high beam quality, work life of more than 100,000 hours, no maintenance costs.
5. The CypCut 2000 control system is embedded with a rich memory of laser cutting setting references, flexible layout designs and tool path editing, data import/export,bridging, coedge, beam compensation, curve smoothing, division, caombination, automatic identification of exterior and interior modes and so on, compatible, with laser source brands such as IPG, SPI, JK, Raycus, etc.
6. Adopted Fuji Japan 1300W &850W& 400W servo motor and driver for machine, the servo motor with SHIMPO reducer,  more accurate, It realizes closed-loop control of position, rotating speed is more faster, general rated speed can reach 2000~3000 rpm; With high strong anti-overload capability, and smooth operation at low speed, no stepping operation similar to stepper motor when running at low speed.
7. Industrial CPU with moving bracelet, very convenient to operate
8. S&A Teyu Industrial chiller CWFL-3000, ensuring fiber laser and laser head can be cooled quickly to ensure that the laser machine has stable power even working at high temperature, high efficient and fast operation.
9. With a 5.5kw smoke filter ,during the laser cutting machine using, can filtering a mass of gas & smoke which are harmful to human health when cutting processing materials.
10.Gantry double-drive structure,with imported Hiwin, Taiwan Linear square guide rail with ball bearing slide block which ensure high weight capacity,  high precision, smooth and steady running.Taiwan YYC rack&pinion transmission system for XY-axis,improves the production efficiency.
11.  With strong tooth type cutting blade table, can stand more thickness sheet , and ensure cutting performance, equipped with feeding wheels is convenient to load materials.
12. Auto lubrication system and air blower 1500W for blow- off.
13.  Adopted SMC Japan proportional valve, improve cutting accuracy.
14.High precision, fast speed, narrow slit, minimum heat affected zone, smooth cut surface and no burr.
15. The slit is the narrowest, the heat affected zone is the smallest, the local deformation of the workpiece is very small, and there is no mechanical deformation.
16.It has good processing flexibility, can process any pattern, and can cut pipes and other profiles.
17. Non-deformable cutting can be performed on materials of any hardness such as steel plates, stainless steel, aluminum alloy plates, and hard alloys.
18.Optional screw type air compress with driver and voltage stabilizer.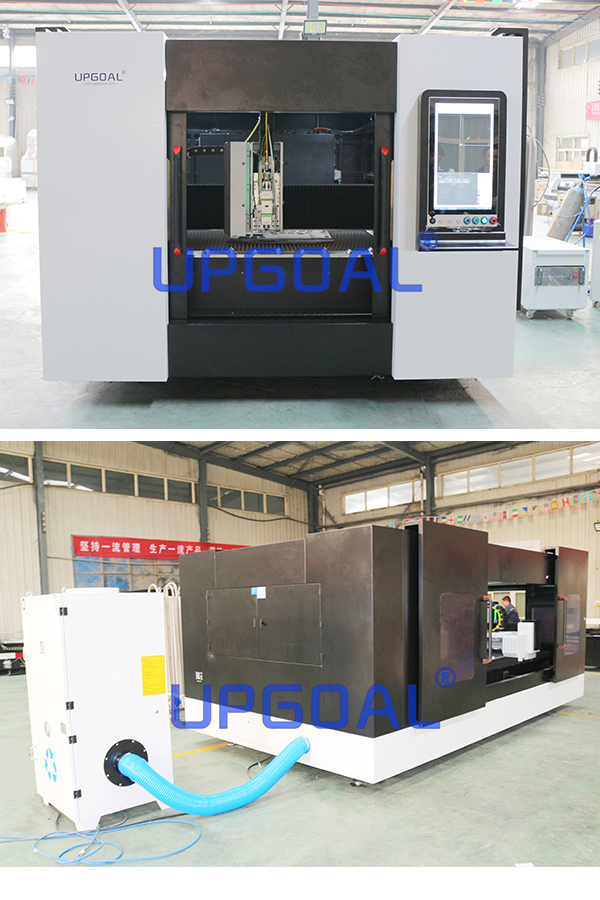 Model

UG-1530FL

Effect cutting size for panel

1500*3000mm

Xaxis working area

1500mm

Y axis working area

3000mm

Zaxis working area

200mm

Laser type

Fiber laser generator

Laser working medium

Fiber

Laser wavelength

1060-1080nm

Cutting head

RAYTools BMH110 auto focusing laser cutting head

Rated output power

3000W(MAX/RAYCUS brand)

Laser cutting system

CypCut 2000

Driving system

Fuji Japan servo motor 1300W/850w/400w

Reduction gear

SHIMPO, Japan

Guide rail

Linear square guide rail, Hiwin, Taiwan

Tranmission system

Helical rack and pinion transmission, YYC, Taiwan

Proportional valve

SMC, Japan

PositionaI accuracy

0.03mm/m

Repeated positioning accuracy

±0.02mm/m

Maximum travelling speed

100m/min

Power supply

AC380V, 50/60Hz, three phases  or

AC220V, 50/60Hz, single phase

Equipment power

15.5kw

Graphic format supported

CAD,DXF, etc

Lubrication system

Automatic

Working environment

Temp:0-40℃,humidity:≤80%,No condensation

Certificate

CE/FDA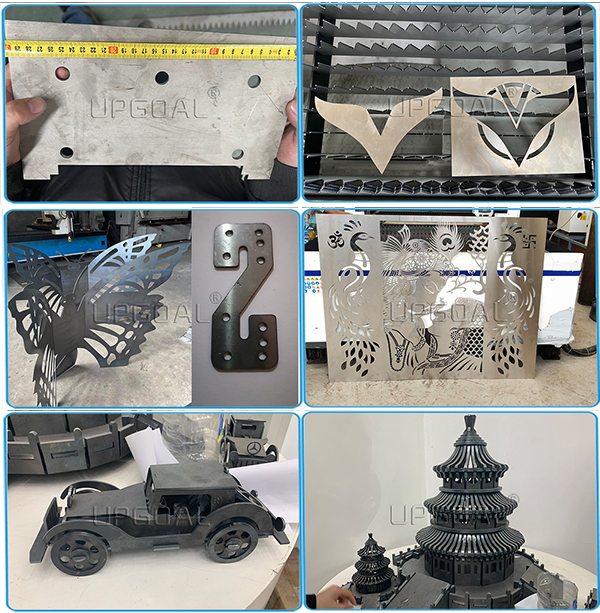 Inquiry now