Gantry Portable Plasma Cutting Machine
Gantry Portable Plasma Cutting Machine
Portable CNC Flame Plasma Cutting Machine 1500*3000mm
Brief Introduction:
Model: UG-1530P 1500*3000mm effective cutting areaFlame & plasma cutting torchFangLing 2100B controllerFlangLing F1621 Digital Voltage THC torch height controller
INQUIRY NOW
Applications
Suitable for all kinds of large, medium and small factories and mines, widely used in automobile, shipbuilding, engineering machinery, etc. Suitable for carbon steel, stainless steel and nonferrous metal cutting.
Features
1.7-inch 800 * 600 high-resolution 16 million color of the color LCD screen, user-friendly interface, full Chinese / English menu, optimization steps, have operation marks on the bottom of the screen , flexible and efficient, easy to learn.
2.Supporting EIA code (ie, G-code) and FastCAM and other nesting software; Chinese/English menu, for various domestic and international operators.
3.Comes with 45 kinds of commonly used graphics library (including a grid pattern), you can manually set the sheet size and hole size, cutting directly without programming.
4.32-bit high-performance CPU, using real-time multitasking and high speed DSP control technology, high-precision interpolation control technology, working high stability, high-speed operation, low noise.
5.Universal U disk transfer G code file (cutting path file), and upgrading transfer system, the system features updating timely, convenient and quick.
6.256M large storage space, can store more than 5000 complex shaped cutting files; meet operation and processing of complex program, run easily handle large programs.
7.Pattern at any angle rotation, scaling, X or Y mirroring, arranged in a matrix, idling, can be manually selected row and Pick other daily operations of the utility function.
8.According to plate thickness, the corner can automatically limit, effectively prevent over-burning. Support cutting edge and the offset cutting, reduce warm-up time of thick steel plate to , and avoid waste due to the discharge sheet calculation errors caused.
9.Graphics zoom in / out, zoom under state real-time tracking cutting point. Customize all input and output port type (normally open or normally closed) and number.
10.Self-diagnostic system to all IO status and key state to facilitate the inspection and troubleshooting. Alone or in bulk import and export procedures, parameters, backup and restore, date, week, clock display.
11.Support for oxyfuel, plasma and demo mode; various processing parameters complete to meet different process requirements.
12.Oxyfuel and plasma separated IO control; automatic increase oxygen gas, two warm-up, three perforation; plasma arc voltage feedback, position feedback, automatically turns off the corner arc voltage height.
13.Power failure and breakpoint data storage and recovery, return function, emergency stop button, not automatically restored to the state before the power failure, effectively prevent misuse.
14.High subdivision stepper motor with high drive segments, low noise, high precision, stable operation.
15. The maximum cutting speed is adjustable to 3.5 meters per minute, to meet the needs of rapid plasma cutting.
16.Automatic cutting compensation, shift torch, torch perforated stay, warm-up time intelligent memory, keyboard diagnosis, temperature-controlled fan. Standard electric height adjustment and universal torch clamp.
17.Stability, high frequency plasma with superior anti-jamming capability
18.Control cabinet is all-steel chassis magnetic structure, completely shielding electromagnetic radiation, real-jamming, anti-static.
19.U-disk upgrade system upgrade, convenient and simple, practical, and provide lifetime free upgrade service.
20.Unique plate correction, the correction can be used as any steel side edge.
21.The graphics can be arranged in a matrix, alternately arranged, stacked arrangement.
22.The workpiece size and the original size at the same time with a slotted display, easy and intuitive.
23.Plasma arc voltage control with speed and distance two options when closing arc voltage height ways to make the machine more balanced, safe.
24.The maximum number of rows in the program.
Reserve power plasma cutting machine interface, optional various plasma cutting machine model, the arc voltage and the initial positioning system tracking device.
Model

UG-1530P

Effective cutting area

1500*3000mm( Length * width)

Beam length

2100mm

Guide rail length

3500mm

Cutting torch

Flame cutting torch is standard

Optional plasma cutting torch

Cutting speed

20-3200mm/min

Flame cutting thickness

6-150mm,maximum 180mm

Plasma cutting thickness

Depends on the plasma power supply

Torch lifting distance

80-130mm

Scribing straightness

accuracy

±0.3mm

Control system

FlangLing 2100B control system

Torch height controller

FlangLing F1621 Digital Voltage THC

Cutting gas

Oxygen+ dimethylmethane or acetylene

Cutting speed

0-3500mm(at maximum 4000mm)

Working interface

Chinese/English/24 foreign languages)

Voltage

AC 220V+10%, 50/60Hz, single phase

Nesting software when delivery

FastCAM

CNC programming

Automatic graphical programming software based on AutoCAD

Cutting surface roughness

12.5μm≤Ra≤25μm

Machine material

6030 high -strength hardness aluminum alloy

insulation grade

A

Enclose protection class

1

Certificate

CE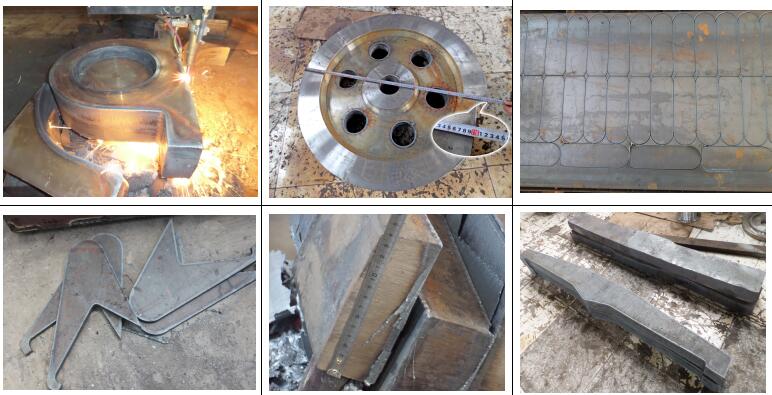 Inquiry now