Metal and Mold CNC Router
Metal and Mold CNC Router
High Precision Steel Metal Mold CNC Milling Machine with 7.5kw ATC Spindle
Brief Introduction:
Model: UG-6060
600*600*300mm working area
Whole heavy duty cast iron structure
Yaskawa 850W servo motor driver
7.5KW ATC air cooling spindle, BT40
Weihong NK300CK controller
With industrial chiller CW-5000
INQUIRY NOW
Applications
High-speed precision cnc metal mold engraving milling machine, mainly suitable for copper electrodes, accessories, high-frequency molds, plastic molds, drop molds and other small molds, industrial products pattern text, bronzing, printing, metal templates, clock parts,
Positioning and punching, shoe mold making, auto parts processing, electronic parts processing, glasses accessories carving, ceramics, hardware processing and related industries.
It is used in ceramic fingerprint recognition, ceramic mobile phone back cover, 5G ceramic filter, processing of hard materials such as ceramics and sapphire, and high-gloss processing of metal products such as stainless steel, aluminum alloy, and copper.
Features
1.The whole machine are made of integral castings, with good stability and vibration Temper aging treatment ensures no deformation for long time.Secondary tempering ensures that the bed is not deformed; the unique reinforcing rib design ensures sufficient rigidity.
2.Cast iron Working table with platform moving type. Durable without deformation enable positioning more preciously.
3.Equipped with  Hiwin Taiwan linear square guide rail for XYZ-axis, effectively improved the precision.
4.Three axis with precision TBI Taiwan lead ball screw transmission ensure the engraving speed and accuracy.
5.High variable speed China HQD 7.5KW ATC  water cooling spindle( BT30), big torque, longer life, strong cutting 
ability and continuous work for long time.
6.Yaskawa Japan 850W servo motor driver for XYZ-axis, ensuring high speed and precision working
7. With Weihong NK300CX controller,  easier interface operation,  its high real-time embedded system, strong and more stable performance, its S control algorithm, ensure the uniform force of the machine bed and prevent effective jitter.  Easier interface operation, 
8.Stainless steel water slot cooling system with CW-5000 industrial chiller cooling, ensuring the cooling for the metal & hard materials, improving the processing precision.
9.Full enclosed cover design, and unique Organ type stainless steel dust&water proof design for Y-axis effectively protect the transmission parts from rust, dust &dirt.
11. Rationalized placement of the electronic parts. Optimized heat dissipation effect. Adopt high quality electronic parts, minimingzing faulst rate. 
12.Auto lubrication system, more  convenient for machine lubricating.
13. Auto tools calibration, conveineint for working 
14.With the function of Break-point memory, power failure resuming and automatic home/orgin correction function. Effectively ensure long time working precision.
15.Working Pause, Speed adjust, Working depth adjust at any time while working. Preview the 2D&3D working result With simulation function. Variable Speed is suitable for various materials and industry.
16.Favorable compatibility with various CAM softwares such as Type3/Artcam/Mastercam/Caxa. With intelligent over limit protection function which can stop the mechanical collision due to unproper size given to the design.
Working Area

X axis

600mm

Y axis

600mm

Z axis

300mm

Accuracy

Working Accuracy

0.008mm

Positioning Accuracy

0.005mm

Speed

Max Travel Speed

8000mm/min

Max working Speed

5000mm/min

Spindle

Spindle Power

7.5kw( HQD,China)

Spindle Speed

12000RPM

ATC

Yes

Cooling System

Water Cooling

Joint of nose

BT40

Inverter Brand

FULING

Working Voltage

AC380v 50/60Hz,three phases

Control Panel

NK300CX or New Edition

Motor & Driver

YASKAWA, Japan, 850W, Z-axis with braking

Table Type

T-Slot

Gantry

Solid Cast Iron

Guide Rail

HIWIN 

Ball Screw

TBI

Drive Mode

Lead ball Screw for XYZ-axis

Limit Sensor

OMRON

Work Piece Load Capacity

500Kg

Air Condition System for Outside Control Box

Yes

Machine Size

1600mm×2000mm×2000-2200mm (6' X 6.5' X 7.5')

Machine Weight

3000-3500kg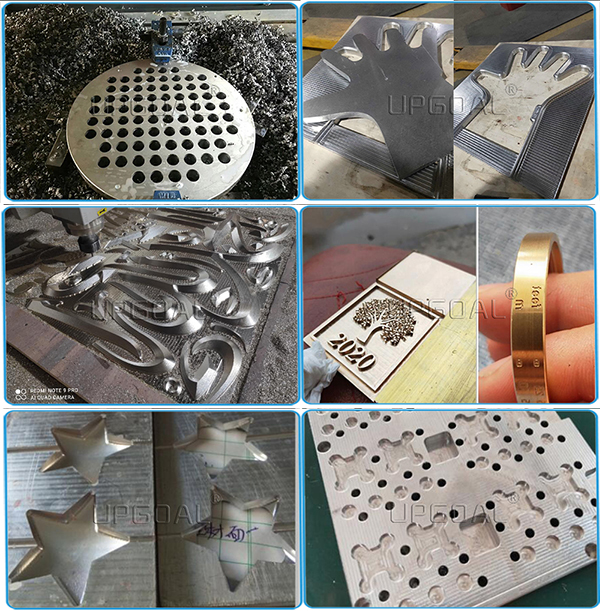 Inquiry now