Oscillating Knife CNC Cutting Machine
Oscillating Knife CNC Cutting Machine
CNC Pneumatic Knife Cutting Machine with Milling Cutter For Rubber Acrylic Cutting 1600*1500mm
Brief Introduction:
Model: UG-1615V
1600*1500mm effective working area
High power pneumatic knife cutting
2.2kw air cooling milling cutter/
Cast aluminum vacuum table with adsorption felt
RuIDa RDD6584G touch screen controller
Panasonic servo motor driver
INQUIRY NOW
Application
UPGOAL cnc vibration knife cutting machine is widely used in cutting paper materials, automotive interior processing industry, used in the cutting processing of car seat covers, seat cushions, steering wheel grips, leather processing industry, leather cutting and punching, household fabrics, cutting of new technology materials and other industries.
Cutting materials
Cardboard, corrugated paper, honeycomb paper, leather, glass fiber, carbon fiber, fabric, self-adhesive, film, foam board, acrylic board, rubber, gasket material, clothing cloth, footwear material, luggage material, non-woven fabric, carpet, Sponge, KT board, PU, EVA, XPE, PVC, PP, PE, PTFE, ETFE and composite materials.
Features
1. With dual tools apron: Pneumatic knife & Milling knife Tool
High power pneumatic knife: the air pressure control the upper and lower high-frequency vibration blade to cut off the material,  which is suitable for cutting of multi-layers, sponge, EVA , gasket and rubber & plastics products.
2.2kw air cooling milling knife tool: with high speed rotary tool,  makes the cutting edge of material be smoother, in addition to processing for hard materials,  can also process for foam material. Application: acrylic, wood, PVC foam sheet, PVC expansion sheet and other industries.
2. Imported original PMI, Taiwan Linear square guide rail with ball bearing slide block which ensure high weight capacity,  high precision, smooth and steady running. Adopt WMH brand, Herion helical gears pinion and rack transmission for X and Y axis, higher running speed and efficiency, and more durable.
3. Adopted famous RuiDa RDD6584G touch screen control system supports both USB and Ethernet connection, has a knife cutting controller with tool direction following control function. It integrates the processing of tools such as vibrating cutters, round cutters, milling cutters, and pressing wheels. It also integrates feeding, circular punching, and V-shaped special punching. Hole, pen processing, red light positioning and a series of functions.
4. Whole cast aluminum vacuum table with imported felt, ensuring the machine stablity.
5. Equipped with 7.5kw high pressure air cooling turbofan with silence, high adsorption ability.
6. China HCFA 450W servo motor  driver for XYZ-axis and Panasonic Japan 400W servo motor driver for DC-axis,, ensuring the processing speed & precision.
7. The cutting efficiency is high, the surface is smooth and flat, which greatly saves costs
8. A variety of tool heads(Vibrating knife, high-power round knife, punching knife, pneumatic knife, multi-layer knife, drag knife, half cutter, bevel cutter, milling cutter, etc. all can be installed), quick replacement to adapt to different materials
9. Convenient output, high-speed cutting, rapid prototyping, intelligent typesetting, saving materials
10.Supports multiple formats such as DXF, PLT, HPGl, etc., without cutting tools, saving manpower and material resources, and simplifying the work process.
11. Improve the cutting speed and efficiency, and provide strong support for high-speed cutting of the electric vibrating knife with a frequency of up to 25,000 times/min, up to 1000mm/s.
12. Smooth operation, fine and smooth incision, powerful function, can effectively solve various problems such as proofing.
13. Semi-auto lubrication system more convenient for maintenance. 
14. Anti-collisiion device, ensuring the safe operation.
Model

UG-1615V

Effective cutting area   

1600*1500mm

Working table

Fixed aluminum adsorption vacuum working table with adsorption felt( imported)

Material fixed method

Vacuum suction system

Dual Cutting head

Dual, dual tool apron

Pneumatic knife Cutting head

Pneumatic knife, amplitude is 5.-8mm, working pressure: 0.6-0.8Mpa

Mill knife cutting head

2.2kw air cooling spindle( ER20, Hanqi brand)

Control system

RuiDa RDD6584G(EC) touch screen control system

Cutting software

RuiDa VcutWorks( supports WLAN cable & USB cable)

Cutting speed

0-1,500mm/s(according to different cutting materials)

Cutting thickness

≤50mm

Cutting accuracy

≤0.1mm

Drive system

 

Servo motors and drivers:

450W( HCFA brand, China)and 400W Panasonic, Japan 

Guide rail

Original PMI, Taiwan, linear square guide rail, diameter 20mm

Transmission system

Original Helical rack and pinion transmission(WMH brand, Herion)

Vacuum pump

Air cooling, 1set, 7.5KW, with silencer

Safety device

Anti-collision system( 4 sets)

Graphic format supported

PLT, DXF, AI, etc.

Compatible

CORELDRAW, PHOTOSHOP, AUTOCAD, TAJIMA, etc.

Voltage

AC220V ±10%,50/60Hz, single phase or

AC380V ±10%,50/60Hz, three phases

Accessories

 Cutting bits-10pcs, USB cables, switches-2pcs, limit sensor-1, long life(5pcs), short knife( 15pcs), belt(1pc), anti-collision sensor(1pc), etc

Certificate

CE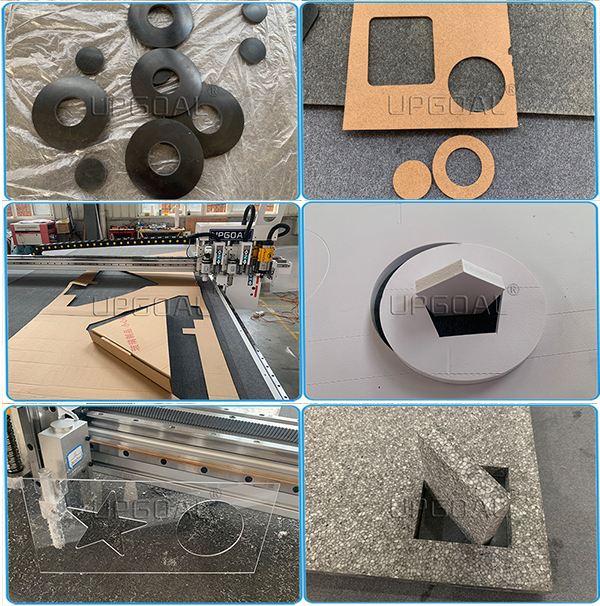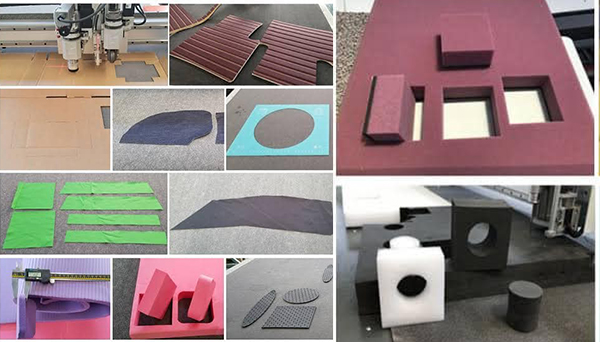 Inquiry now