1000W Handheld Fiber Laser Welding Machine
Brief Introduction:
Model: UG-100LW
1000W Raycus fiber laser
WSX controller board
Wobble laser welding head
3)DIC010ASH-LD5 Industrial water chiller
INQUIRY NOW
Applications
This series laser welding machine is perforation, widely used in kitchen industrial , household appliances , advertisement , module industrial , stainless windows and doors , handiwork , home supplies, automobile spare parts industry .
Features
1.The energy density is high, the heat input is low, the amount of thermal deformation is small, and the melting zone and the heat-affected zone are narrow and deep.
2.High cooling rate, which can weld fine weld structure and good joint performance.
3.Compared with contact welding, laser welding eliminates the need for electrodes, reducing daily maintenance costs and greatly increasing work efficiency.
4.The weld seam is thin, the penetration depth is large, the taper is small, the precision is high, the appearance is smooth, flat and beautiful.
5.No consumables, small size, flexible processing, low operating and maintenance costs.
6.The laser is transmitted through fiber optics and can be used in conjunction with a pipeline or robot.
| | |
| --- | --- |
| Laser Power | 1000W( Raycus brand) |
| Laser Wave Length | 1080nm |
| Laser Source | Raycus |
| Fiber Length | 10M |
| Cooling Mode | Water cooling |
| Laser Pulse Frequency | 1-20HZ |
| Pulse Width | 0.1-20ms |
| Adjusted spot range | 0.1-3mm |
| Minimum Welding pool | 0.1mm |
| Gas source | 0.2Mpa (Argon ) |
| Working Voltage | AC220V, 50/60Hz,single phase |
| Gross Weight | 200kgs |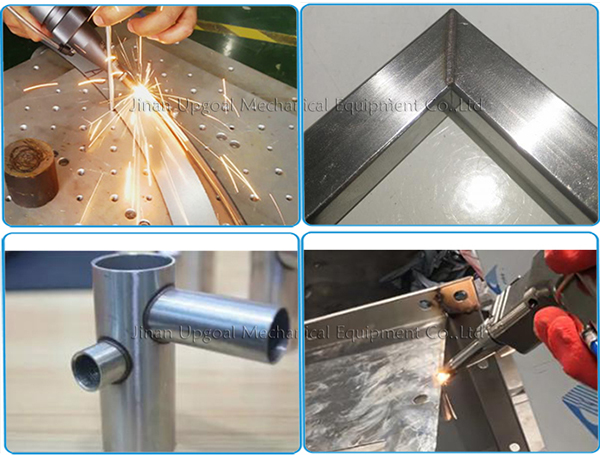 Inquiry now